Global Cat Day – October 16th, 2018
Global Cat Day was founded by Alley Cat Allies. It was previously known as National Feral Cat Day since 2001. Alley Cat Allies started it "to strengthen support for humane policies that protect cats" (Alley Cat Allies, 2018). They are trying to spread the word worldwide to help inform people the impact on how the local cat population is treated and how the solution of spay and neuter can help.
How To Observe Global Cat Day
#1 Spay or Neuter! – To help with cat advocacy, get your cat spayed or neutered and encourage others to do the same. Not only can this procedure aid your cat to sustain a longer, healthier life, but it can also help better regulate pet overpopulation.
#2 Spread the Word! – Share this news with friends, family, co-workers, social media followers, etc. Word of mouth will help people become more knowledgeable about community cats and how to help!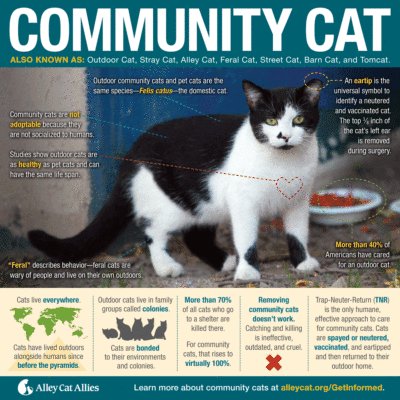 Works Cited
Alley Cat Allies (2018) Global Cat Day. Retrieved October 15, 2018 from https://www.alleycat.org/take-action/global-cat-day/